At a glance
Expert's Rating
Pros
Super-slick, appealing physical design
Streams to your phone and uploads to online storage
Ships with OBD or hardwire constant voltage kit
Cons
So-so captures
Pricey
Problematic offloading with some phones
Intrusive app
Our Verdict
A classy front/interior dash cam, and a great idea that relies too heavily on online storage for capture offloads. The app is overzealous with notifications to boot.
Price When Reviewed
$349.95
Best Prices Today: Nexar One Pro dash cam
Physically, Nexar's $450 One Pro is a work of art. It's pricey to be sure, but luxurious styling, clever design, and pretty much every feature found in a modern dash cam would likely ward off any buyer's remorse.
I said would, because in practice, transferring video online proved problematic and tediously slow, with what turned out to be an incompatible phone. Also, the app's insistence on notifying users of mundane inanities proved intrusive and annoying.
Further reading: See our roundup of the best dash cams to learn about competing products.
Nexar One Pro design and features
The Nexar One Pro has fixed internal storage, available at purchase time in 64GB (standard), 128GB (+$50), 256GB (+$100), and 512GB (+$180) flavors. How much you need depends on how much you drive, how much video you want saved, and how many years you want to use the camera. NAND has a finite lifespan.
Of course, with the One Pro, you can always offload videos to your phone, and there's the accompanying LTE service and online storage. Alas the latter proved problematic. More on that later.
The Nexar One Pro, while exceedingly handsome in appearance, is a hefty deal at 7.4 ounces, with the magnetically/Type-C coupled "Connectivity LTE" module and interior camera module contributing another 1.76 ounces apiece. The main unit measures 3.5-inches wide by 2.75-inches tall, by 1.2 inches thick. Both the connectivity module and the interior camera module add around 1.6-inches of width, for a rather conspicuous 6.7-inch width when assembled.
The front camera is 4K UHD (3840×2160) with a 140 degree field of view, while the interior camera is 720p with a 160 degree FOV, and rotates vertically for optimal cabin coverage.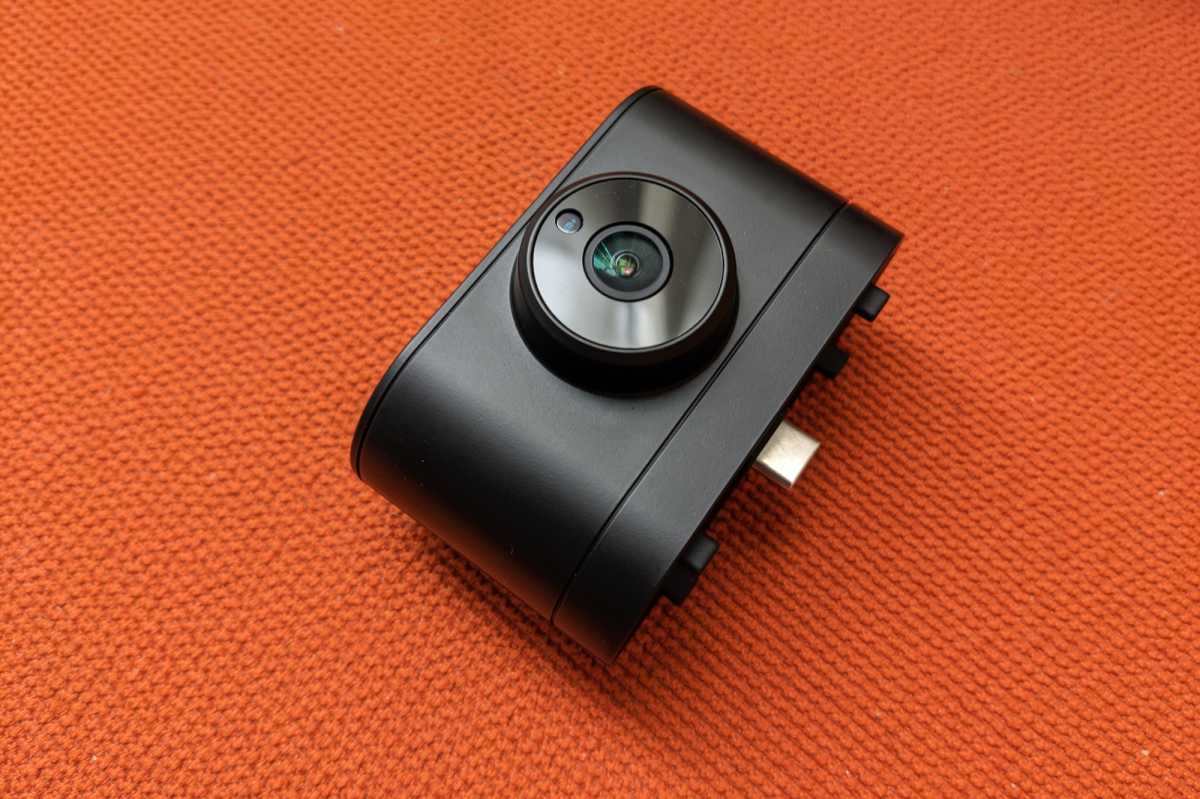 Jon L. Jacobi
Despite the large size, I was less hesitant about placing the One Pro on my windshield than i've been with most other dash cams—it's that classy looking. The entire deal is affixed to the windshield using a semi-permanent adhesive mount (with an integrated Type-C power connector), which in turn magnetically connects with the camera.
I found the magnetic coupling just right—reassuringly secure, but still easy to remove. Also, when you get it anywhere near the mount, it almost jumps out of your hand to mate with the mount. That may sound odd or disturbing, but it's actually kind of cool. Especially as the communication and interior-camera modules do the same. Fun, fun, fun.
Easily removed is also cool, as I wouldn't want to leave such an attractive piece of tech in the car except in known secure locations—most especially my pathetically easy to open convertible (knife slash) that I deliberately leave unlocked.
While the Nexar One Pro comes with an auxiliary/USB charger in the box, it also ships with a OBDII power unit/cable or hardwiring kit. I was happy about the OBDII I received as it's by far the easiest way (no wire tapping) to provide constant juice to a dash cam for surveillance while you're parked.
Note that OBDII is the standard diagnostic connector on all cars for the last several decades. You have one, most likely under the driver's side dash to the far left of the cabin.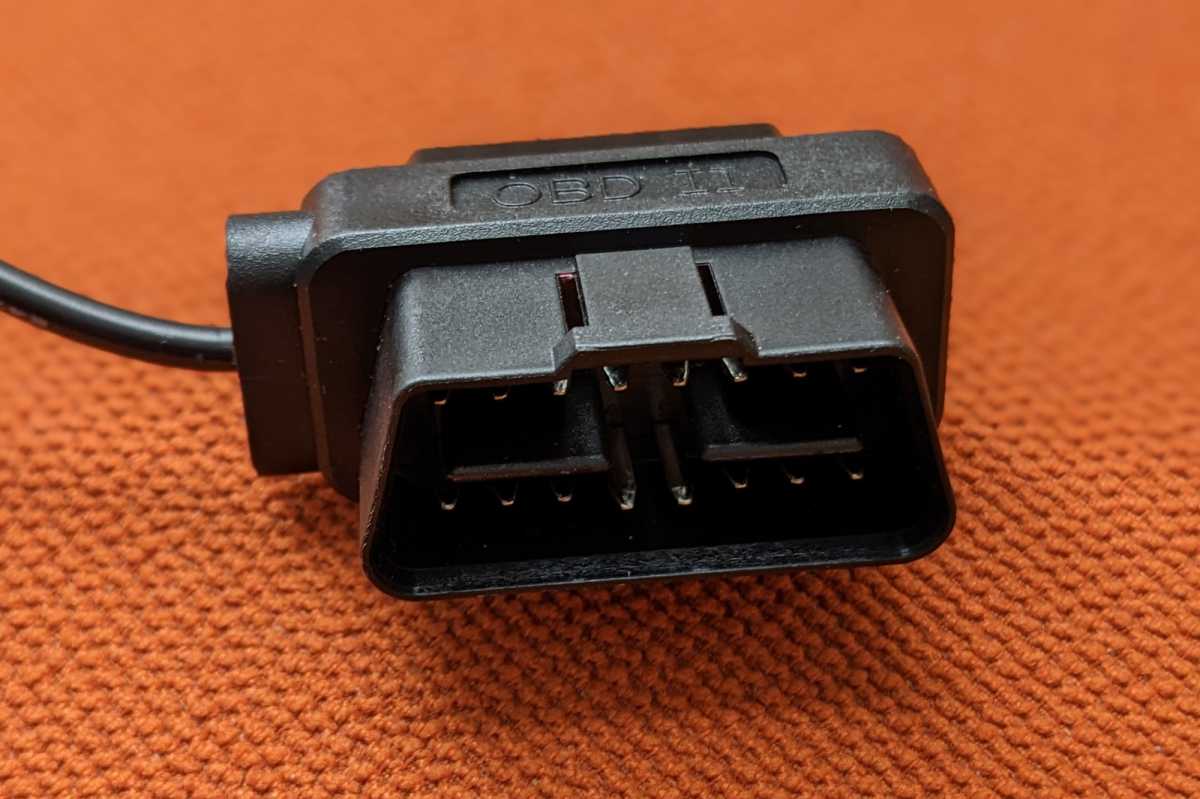 Jon L. Jacobi
That said, the cable features an inline transformer puck that you'll need to tuck away somewhere. Overall, however, I don't think I've seen a physical design as nice as the Nexar One Pro. It's just elegant all the way.
Using the One Pro requires signing up with Nexar as you need to store videos online. If you want advertised features such as live streaming, live alerts broadcast for incidents, and remote vehicle locating, you'll need a Nexar Connect subscription for $10 a month. Factor that in when you are comparison shopping.
Other features include a parking mode, GPS, bad driving alerts, sharing of files, voice feedback, as well as Wi-Fi 6 and Bluetooth LE (Low Energy) 5. There's also a mounting alignment helper in the phone app, which also features the ability to play back video while showing your route and destination on a map. Nice.
Nexar One Pro app and offloading
I was having unbridled fun and feeling stark admiration for the Nexar One Pro right up until installing the app and trying to access captures. I now must note that I first used my personal Google Pixel 4 for testing as I usually do. If not bleeding-edge, it's still a relatively modern and capable phone.
Alas, the Nexar app isn't fully compatible with it. I'm going to describe my experiences with the Pixel 4, as that was used for the majority of the testing and screen captures, but ultimately using an iPhone resolved the issues. Check the rather obscure list at Nexar's site to make sure your phone is supported. This should be front and center on the product page and the app should be smart enough to tell you.
First off, it took several reboots of both the app and the camera to connect, though after initial connection, mating was reliable and quick. This is not uncommon with phone-centric dash cams.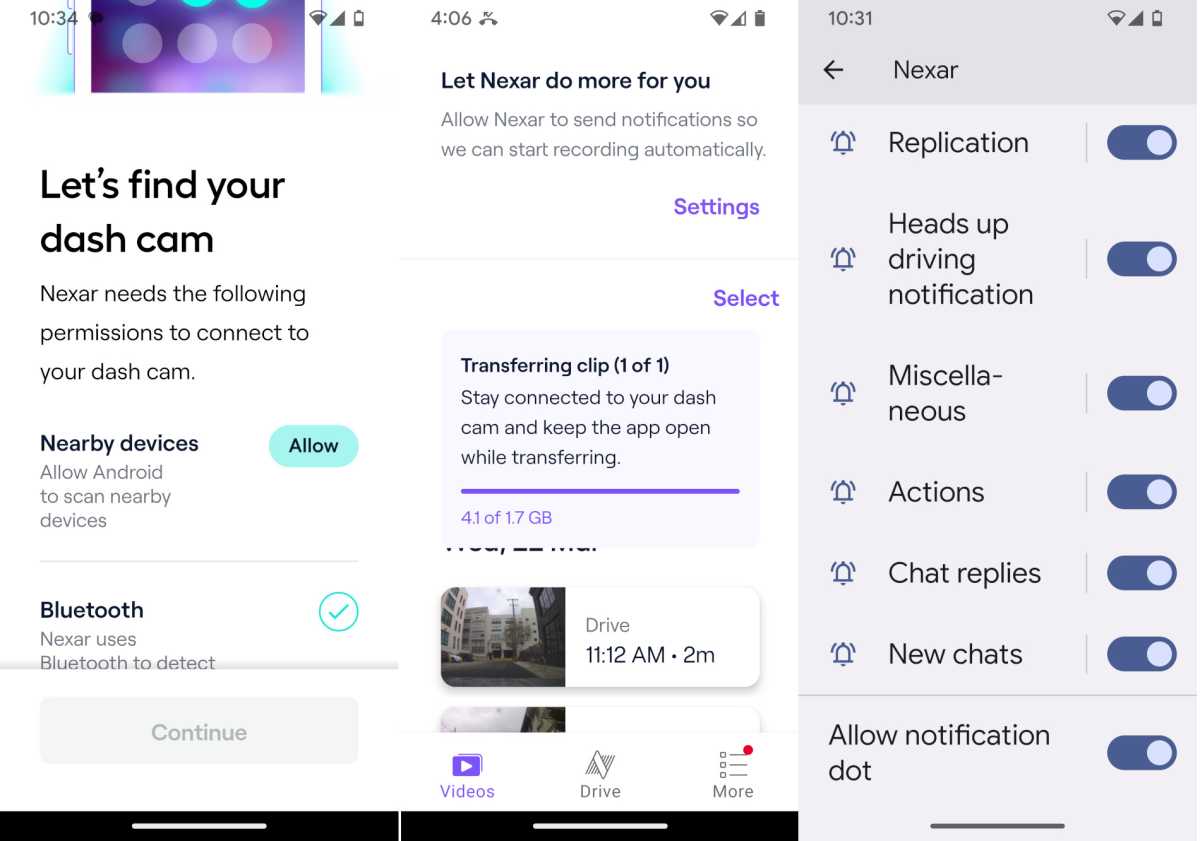 I saw much praise for the app among the reader (maybe) reviews at Nexar's site, but personally, I was hardly enamored with it badgering me incessantly about things it wanted such as location data. And when I turned off notifications (there are literally dozens), it started bugging me about turning them on. I know how I want to use the product. Chill, Nexar!
On the other hand, I did enjoy the live view, being able to replay rides and see the GPS info used to scribe my route on a map.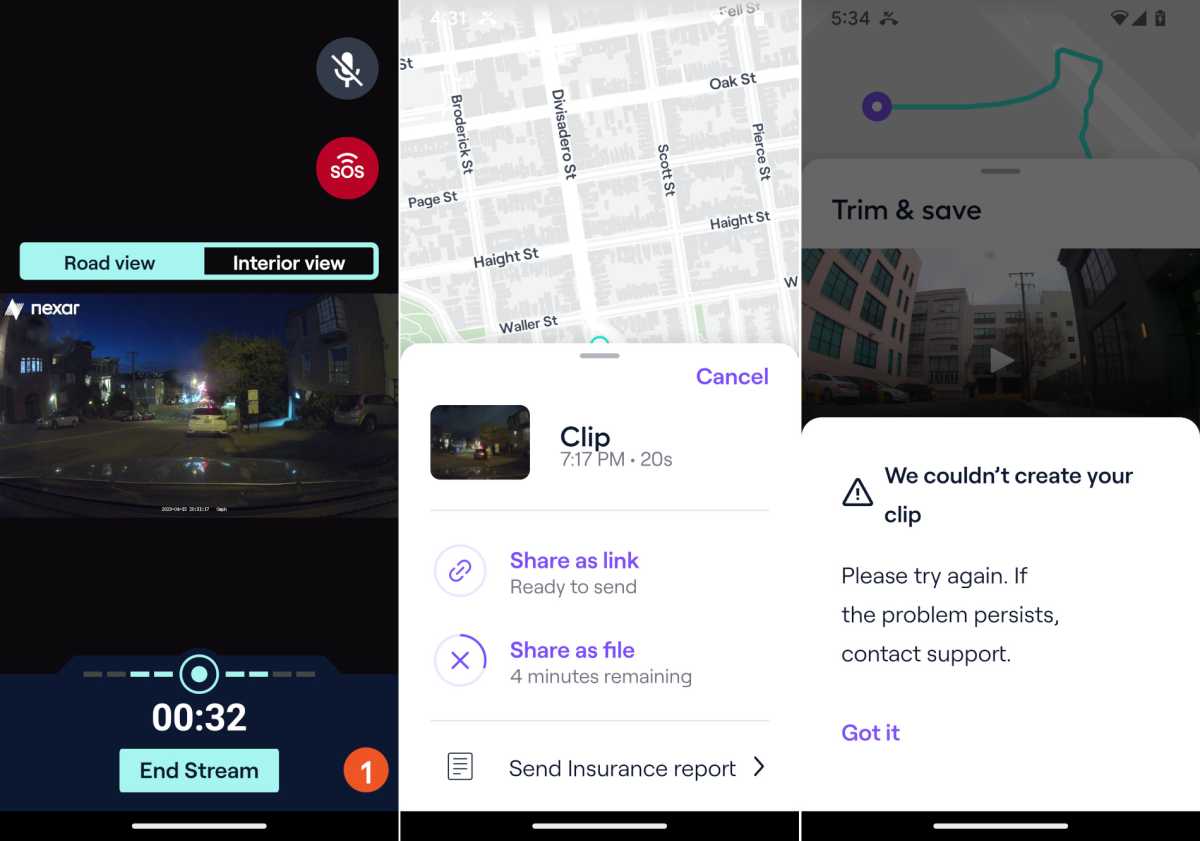 With the Pixel 4, only a few of the dozens of videos were seemingly saved online automatically, and when I tried to manually upload videos from the app, the process stalled every time. There was also seemingly no way to abort (there's an X on uploading videos, but it didn't respond).
To its credit, Nexar support was friendly and quick to get back to me, however, I'd already taken all the steps (uninstall, re-install, power cycle everything, etc.) they suggested to ameliorate the issue. I was eventually informed by my company PR contact that the Pixel 4 (and several others) was not compatible, but email support never proffered this information.
Long story short, the only way I was able to reliably retrieve videos from the Pixel 4 was by browsing to Android/Data/mobi.nexar/dashcam/files/user/(a very long alphanumeric)/videos where they'd been streamed. Not something all users will know how to do, or even consider.
What Nexar One Pro should do is function as USB mass storage, as most display-less dash cams do when connected to a computing device. Whether my phone was the issue or not, the lack of this facility in a dash cam with non-removable storage is an issue. A big issue.
I eventually got everything to work using the aforementioned iPhone, but geez Louise.
How is the Nexar One's video?
Once the captures were finally off the phone, the results were generally good, though not nearly of the quality of those featured on the website. Color was fine, but the camera reacted poorly to the gray day here in San Francisco, making it appear darker than it was.
Notice that details in the following shot are fine on the car to the right that's within 20 feet, but muddy straight ahead at a distance of only 100 feet. There's also a fair amount of fish-eye, though bumps and other motion were handled well—no tearing, jiggling, or other artifacts.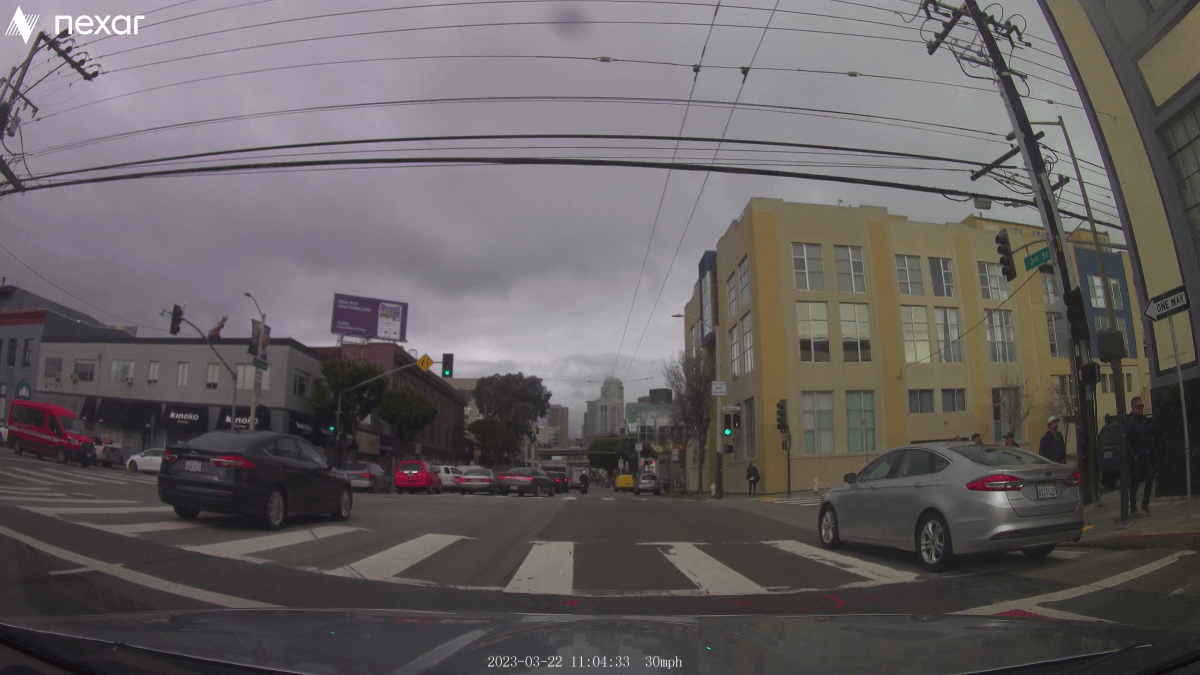 Nexar obviously opts for smoothness over sharpness at a distance, and for your incidents that's fine. But it does limit usefulness in terms of cataloging your travels or documenting other people's incidents.
The interior capture below was taken on a brighter day, and again, the Nexar One Pro doesn't compensate for the lighting conditions particularly well. The image is usable but overexposed.
It seems the One Pro handles night and low-light captures better than full-light and day. The following night capture shows good detail despite a wet windshield. Much, much better. Go figure.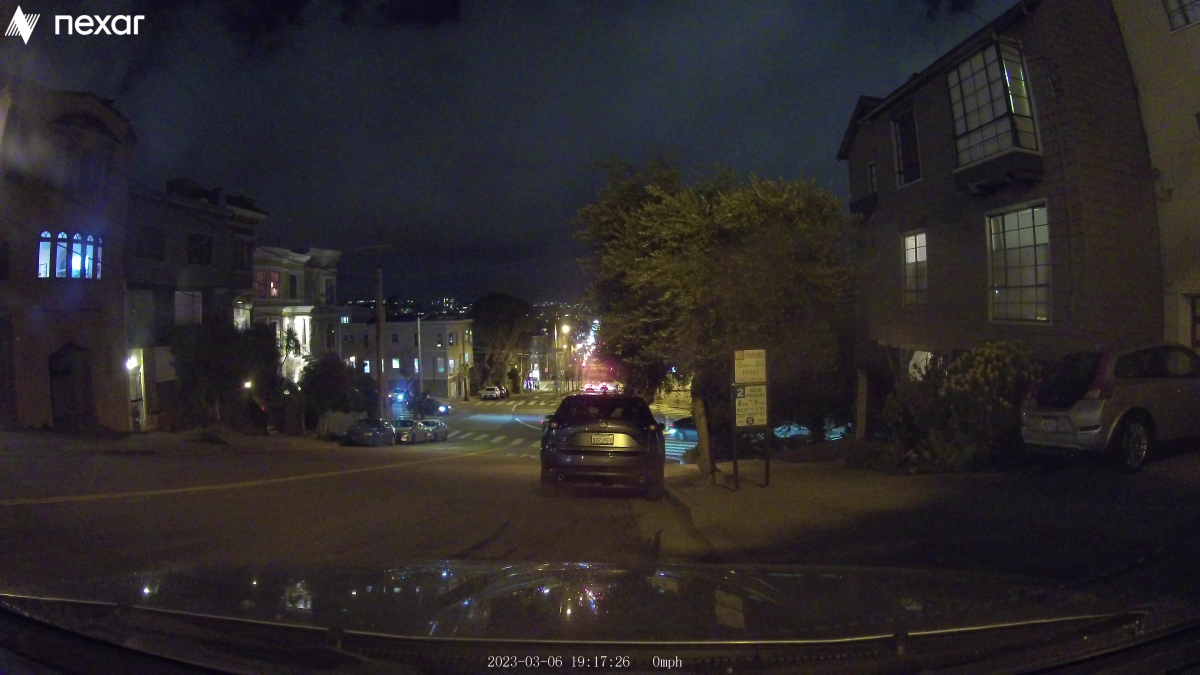 The night interior capture also opts for smooth over sharp, but you can see the interior and exterior quite well. I don't particularly love the lines in my face, but a good dash cam would capture them better.
Overall, I'd call the Nexar One Pro's captures serviceable, though dash cams such as the 70mai Omni do better on all fronts with less space-hungry 1080p. You can switch the One Pro to 1080 to save space, but 4K is the default.
Is the Nexar One Pro worth it?
As a piece of clever, attractive hardware, the Nexar One Pro is the dash cam I'd most like in my car. I was ready to fall in love. For the price, I was expecting top-quality captures and a painless, polite experience. Instead, captures were so-so, the app was annoying, and it didn't work properly with my phone for initially unexplained reasons.
If you're using a compatible phone, you'll probably like the One Pro. But the camera needs to allow direct offloading via USB, and the company needs to work harder to make sure Pixel 4 users don't fall into the same trap.