The AI PC, propelled by Intel's Meteor Lake, is almost here. So why should you care?
It's the billion-dollar question. Intel is building NPU AI inferencing engines into its processors beginning with its 14th-gen Core chip, Meteor Lake, also known as the Core Ultra. Robert Hallock, an AMD veteran now overseeing technical CPU marketing for Intel's microprocessors, said Tuesday that Intel's goal by 2025 is to ship 100 million "AI PCs," a term Intel CEO Pat Gelsinger began using in July.
Intel announced the architecture behind the 14th-gen Core Ultra chip on Tuesday, the same day as Intel's Innovation conference began in San Jose. Intel used the conference to pitch developers both on what an AI-powered future will look like, especially one powered by Intel.
Intel's Core Ultra is notable for several things, including its move to the Intel 4 process technology and the disaggregation of the traditional two-die design for four separate "tiles" all mounted on an interposer. Moving to Intel 4 helped cut power by half over the 13th-gen Raptor Lake, assisted by new low-power E-cores. But the key addition is the NPU, the AI inferencing engine that will help bring AI to the masses.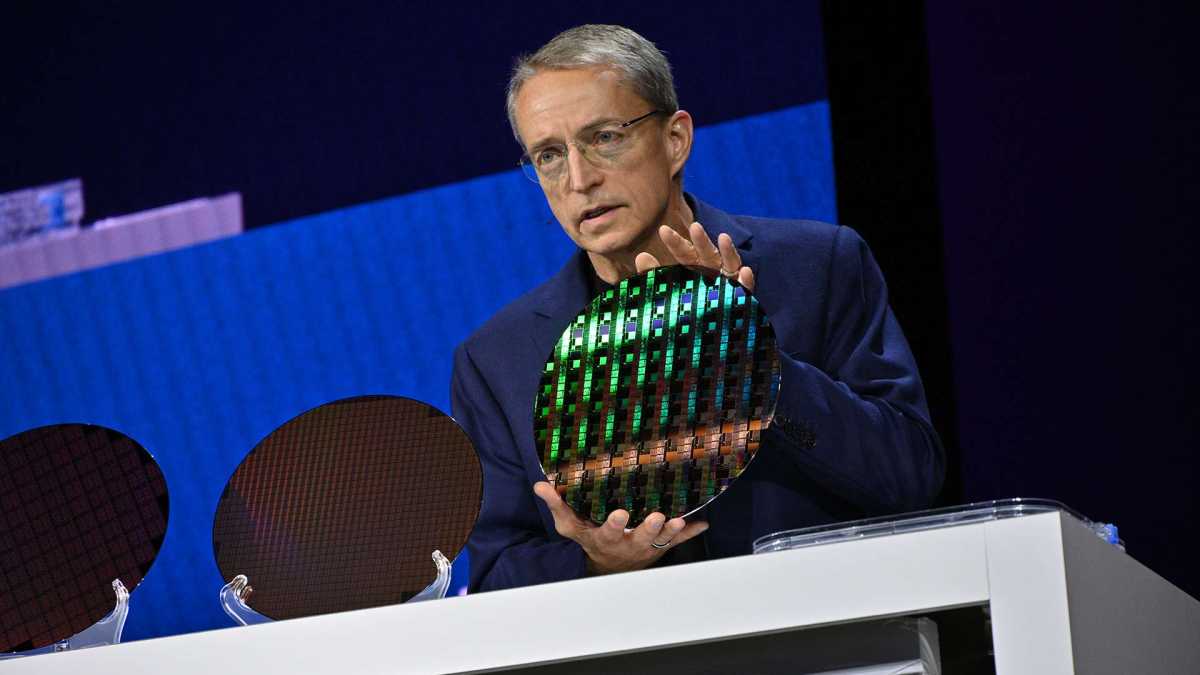 Intel
"We see the AI PC as a sea change in tech innovation," Gelsinger said during his opening keynote.
That's the hope, anyway.
A fourfold strategy to win over consumers
The implicit theme of Intel's Innovation conference was AI, AI, AI — from Gelsinger's opening keynote to late afternoon panel discussions. Intel is trying to literally carve out a new market for AI on the PC where none has existed: "This is category creation, at its finest," Gelsinger said in response to a PCWorld question on how it would do just that.
But AI has primarily existed in the cloud, led by ChatGPT, and on smartphones, with portrait mode and various filters. On PCs, it's confined to a few Windows Studio Effects technologies. Intel is trying to establish local AI on the PC as something that eliminates the round trip to and from the cloud while being private enough to talk to only you. But what, exactly? Well, something.
The strategy appears to be fourfold. First, design the hardware. Intel unveiled the design of the NPU to press and analysts at an event in Malaysia, promising that the NPU would offer a more energy-efficient approach for processing AI tasks than a standalone CPU or a GPU. Done. Intel's Gelsinger also showed off 2024's Meteor Lake successor, Lunar Lake; Arrow Lake, a chip on the 20A process node, and 2025's Panther Lake, heading to the fab in 2024 for later production. The CEO also demoed an AI task running on Lunar Lake's AI engine.
(There's a slight twist. While Intel talks about the NPU as an "AI engine," it's really only one part of it; a video codec, for example, performs decoding and encoding functions. There are two parts to "AI;" the training, and inferencing (predictions) based upon the trained models. For now, the AI engines in PC processors can only perform inferencing.)
Second, show off the AI apps that exist today and tomorrow. Gelsinger's keynote showcased several applications that could use AI in various capacities: Deep Render, which uses AI to compress files by 5X; Rewind.ai, a hearing aid that also transcribes what it hears for future reference, including ChatGPT-like queries; and Fabletics, which together with partner Fit:match AI creates a virtual avatar of you to try on clothes.
YouTube / Intel
Notably, most of the applications avoided the "traditional" uses of AI: generative AI art and ChatGPT. Instead, they showed off how AI could be used to enable revolutionary new applications. (Check out these 12 AI services that can improve your life right now.)
That's where the rubber will meet the road. At some point in time, consumers are going to ask what they can actually do with AI. To some extent, that question has been answered with ChatGPT and related apps. But the next question is why a consumer would need AI on their PC, and not just via a connection to the cloud. It's that question that Gelsinger's demos attempted to answer, to middling success.
The third part of Intel's AI strategy appears to try to elevate the APIs which enable AI. Executives talked about how the Core Ultra's NPU would accelerate various APIs, including OpenVINO, which Intel has helped develop as an AI-centric API. (If a developer supports it, it could potentially give Intel an advantage, analysts at Innovation said.)
Mark Hachman / IDG
Finally, deliver at scale — if you build it, they will come.
"I'm going to deliver a cadence of products yearly, I'm going to deliver millions of units next year, and I'm going to deliver billions of TOPS (tera operations per second, a measure of computing speed) that developers can design to, and that really opens the ecosystem up," said Michelle Johnston Holthaus, an Intel executive vice president and general manager of Intel's Client Computing Group.
Early days for AI
Will it all work? Intel executives are also realistic. Gelsinger referred to being in the "first inning" of AI. Hallock said that Intel would release its first AI/NPU benchmarks in October — without saying how Intel was expected to fare, or even what benchmarks would be used.
The message is that Intel provides open AI, trustworthy AI, and competitive AI — but there's still quite a lot that Intel appears to be leaving to faith. The question of what "good AI" is, or how consumers are expected to compare it to AMD and Qualcomm, is one Intel hasn't really answered yet.
"I mean, these are substantive gains that we're seeing for the platform, where we're quite excited about it, and our products are comfortably ahead of the competition for it," Gelsinger said in response to PCWorld's question on how it would sell AI to consumers. "So we're going to differentiate on the merits of the products and on the market integration and the work that we do."
Is that the answer you want? Probably not. But consumers probably won't run out to buy a Core Ultra laptop just because it has AI, either.
What AI's rapid adoption has taught us, however, is that once a viral app like ChatGPT takes hold, everyone rushes to try it out. Intel (and its rivals) are building out AI's foundation, hoping that next viral app is waiting in the wings.
Disclosure: Details of the Meteor Lake architecture were unveiled at an Intel event in Penang, Malaysia. Intel paid for PCWorld to fly there, plus meals and airfare. PCWorld retained editorial independence throughout the process. This story was updated at 2:45 PM on Sept. 20 with additional details.