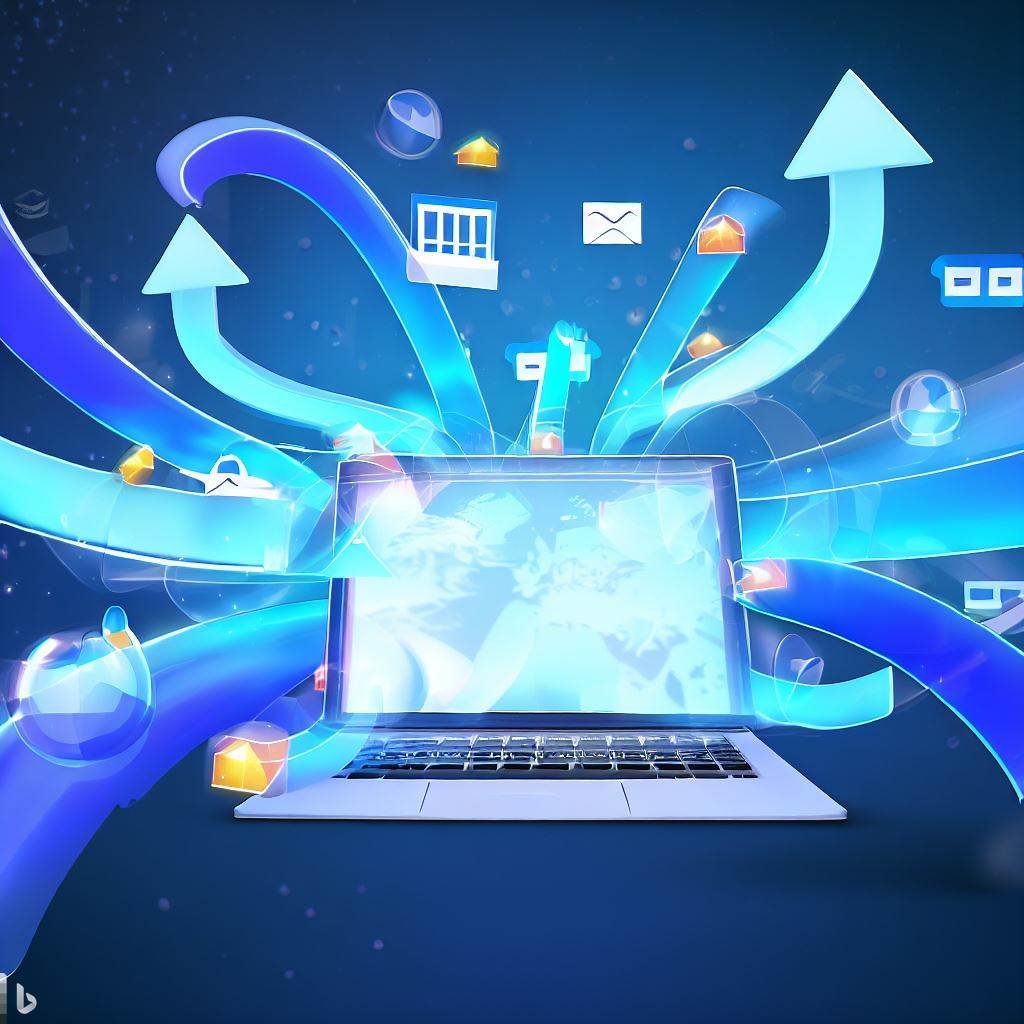 In this report, we'll explore strategies for enhancing your online visibility to reach individuals unfamiliar with you or your business.
The goal is to draw them to your website based on the content they encounter.
We won't focus on popular platforms like YouTube, which most of you already utilize for video uploads, optimizing descriptions and metadata for better visibility.
Similarly, we won't delve into various social media platforms like LinkedIn, which offer their own optimization techniques and traffic funneling back to your website.
Other social platforms, such as Instagram, allow you to build a profile, engage with content, and redirect users back to your website.
Likely, you're already using platforms like Facebook for this very purpose.
Your activity on these platforms piques the curiosity of other users, compelling them to visit your website to learn more about what you're sharing.
Similarly, Pinterest is another well-known platform used for interaction and funneling traffic back to your site.
Increasingly, users are turning to discussion boards like Discord, where your profile can be a powerful tool to redirect users to your site.
Platforms like Circle enable you to join or build a community, with a profile that can guide users back to your website.
In this course, we'll introduce lesser-known sites like Open Sesame, which cater to specific niches and may house your potential target audience.
Essentially, you'll learn to establish your profile on niche-specific sites to pique the interest of individuals and guide them back to your website.
We'll showcase these techniques on a variety of platforms, some of which may be new to you. So, let's get started.
Your Profile on Udemy
Udemy serves as an educational platform and marketplace for individuals seeking unique knowledge and skills, providing a space for instructors to be discovered by potential students who may be unfamiliar with them.
You have the opportunity to upload courses to Udemy and include a link in your profile that redirects to your website.
While Udemy maintains certain rules for its marketplace participation, it's advantageous to have at least one course on the platform and an appealing profile that piques the interest of potential students in what you have to offer.
Note that Udemy links each course to its creator, making the instructor easily discoverable. Each instructor has their own profile that's accessible with a simple click.
Furthermore, the platform allows each instructor to share their social media links, enabling potential students to learn more about them.
Within your Udemy profile, you're allowed to make your website visible.
So, irrespective of whether you offer one course or several, it's crucial to engage potential students with your profile, and carefully consider which websites you provide for further exploration.
Visitors will be clicking these links to learn more about your business.
Your Presence on Skillshare
You can freely upload your original courses to a platform named Skillshare, which operates under a business model distinct from Udemy's.
Nonetheless, the underlying process remains the same: uploading courses to draw people to your profile.
When adding courses to Skillshare, it's important to ensure your profile accurately represents what you wish your audience to perceive.
Visitors will be able to see a clickable website link to learn more about you.
You'll have the opportunity to incorporate your social media links and website link, as well as additional content and links.
Remember, it's essential to have a course or multiple courses on Skillshare.
Even though you might not align with their specific business model, attracting individuals to discover your course, and subsequently your profile, should be your primary interest.
Become an Instructor on Coursera
The exclusivity of the platform where your course is hosted often determines the caliber of individuals who discover you and visit your website.
Coursera is one such platform where you can submit your course. To do so, navigate to your preferred search engine and query "become an instructor on Coursera."
It's important to remember that not all content may be suitable for Coursera, but for some, this more selective marketplace could be an opportunity to stand out.
Your search results will show a link titled teach.coursera.org. Click on it. At the time of this report, the webpage has the headline "Become a Project Instructor."
You will then proceed with the application process. Note that one optional aspect is a review of your LinkedIn profile.
So, it would be beneficial to ensure that your LinkedIn profile accurately represents what you're proposing to Coursera.
Take note of what Coursera is seeking in their instructors.
During the application, you'll find that having a teaching license for your subject matter is advantageous.
Additionally, you'll be required to submit a specific video demonstrating your teaching prowess for the subject you're proposing to teach on Coursera.
It's important to be aware of this opportunity, and to maximize your chances of success, ensure your application adheres to the recommendations outlined in this report
Teachers-Pay-Teachers
If your business strategy involves drawing educators to your website, consider utilizing a platform like Teachers Pay Teachers.
Here, you can upload resources tailored to appeal to your target audience and funnel them into your marketing strategy.
This platform functions as a discovery hub, enabling individuals searching for specific information to connect with sellers who have the desired resources.
This platform also allows you to create a profile, and within these profiles, you can include links back to your website, video sharing sites, and your social media channels.
Thus, if you have valuable resources for educators and aim for your website to be discovered, Teachers Pay Teachers is an excellent platform to offer content for download and purchase.
Hometalk DIY Platform
Depending on your business niche, particularly if it involves hands-on or DIY projects, you can engage individuals using the Home Talk platform.
Home Talk is a destination for those in search of specific DIY projects, and you can post your own projects on the site.
It's common for these project posts to include videos in their listings.
Significantly, by posting your project, you can highlight your website within your profile. Furthermore, it allows you to incorporate your social media sites.
Therefore, if you're aiming to attract a specific audience into your marketing funnel or to be discovered by certain individuals, Home Talk serves as an information marketplace where you can be found, and where individuals can locate your website through your profile.
LinkedIn Learning
If you utilize LinkedIn for professional networking, you might be aware of the online courses available on the platform for individuals seeking to acquire new skills.
These courses are delivered by LinkedIn users. To access their websites, one has to first visit their LinkedIn profile, which acts as a gateway to their websites.
If you possess expertise suitable for LinkedIn's audience, you might consider becoming an instructor or course creator on LinkedIn Learning.
Bear in mind, however, that this is a highly selective process overseen by LinkedIn, involving a rigorous application process before acceptance as an instructor.
To proceed, head over to your preferred search engine and search for "become an instructor on LinkedIn."
You'll find a link titled "Becoming an instructor on LinkedIn Learning." Clicking this link usually leads you to a page where you can apply to join the program.
Please note that applying to be a LinkedIn Learning instructor implies that you're an active user of the platform with a substantial number of LinkedIn followers.
Thus, it's crucial to ensure your application has a strong chance of success before initiating the process.
If you've attained recognition on LinkedIn such as LinkedIn Influencer, Power Creator, or Top Voice, this could bolster your application.
Finally, you'll need to provide a video sample demonstrating your teaching style to LinkedIn Learning.
GroupOn
Depending on your location globally, you can create a profile and sell products on Groupon, a discount platform where people seek exclusive deals in specific areas.
In select cases, Groupon does offer digital products to its customers.
However, the process of initiating a Groupon campaign for a digital product is not always clearly defined.
To begin, you must access the Groupon merchant area and initiate a discovery call with the Groupon team.
One notable feature on Groupon is that some providers make their entire course offerings available.
Upon clicking these links, you'll find that sellers have a profile available at the bottom of the listing.
You'll observe that the business offering this product maintains a distinct company website.
You can peruse this site and its offerings prior to undergoing the certification process with Groupon.
If a certain company requires certification before listing their site on Groupon, you may need to provide something similar to sell your products.
However, it's essential to understand that the substantial traffic on Groupon enhances your discoverability and provides individuals with a link to visit your website and explore your offerings.
Your Course on Alison.com
Certain platforms, such as Alison.com, may not provide a direct link back to your website, but they can offer exposure to individuals seeking specific knowledge in certain fields.
Alison serves as a platform for companies to offer courses to their employees, facilitating upskilling and enhancement of their expertise.
Consequently, Alison relies on content creators to provide course material for its platform.
Alison has a course creator application that you can fill out.
The requirements for what Alison seeks are broadly defined, suggesting that lecturers, teachers, researchers, or experienced professionals passionate about teaching may submit their content to Alison for discovery by individuals seeking expertise in specific areas.
Before applying to Alison, it's crucial to ensure that the courses you aim to deliver align with your target market's needs.
Additionally, it's important to understand the implications of being a course publisher on a platform that doesn't provide a link in your profile back to your website for viewers to click on.
However, if you have informational products and desire to showcase your expertise, you can upload a course to Alison to educate its existing audience.
Alison promotes your course to its audience via social media, email, and search.
Therefore, Alison can facilitate your discovery and the visibility of your course content, even without a direct link back to your website.
Eventbrite and Meetup
Eventbrite is a discovery engine that features in search results and also draws visitors to its own platform.
Depending on your location, you can post an event on Eventbrite, enabling individuals to see and attend the event, and potentially visit your profile and website.
For instance, numerous events are listed in various areas, including online events.
The main point here isn't the events themselves but rather your capability to post events that can redirect individuals to your website.
You'll find that each posted event has a distinct profile that can guide individuals to a website and social media accounts.
You have the liberty to specify the website and bio you want to appear on Eventbrite within your profile.
Similarly, you can arrange different events on a paid application called Meetup.com.
Primarily, Meetup is designed to attract individuals with specific interests within a local area.
In recent years, however, Meetup has evolved to allow hosts to set up online events that can be discovered by individuals irrespective of their geographical location.
So, if you host an online event on Meetup, you can be discovered by individuals searching for specific events.
The platform thus facilitates your discoverability and enhances your visibility.
Become a PR Expert
Another strategy to drive traffic to your website is by positioning yourself as an expert to be interviewed for blogs, podcasts, or articles.
You can establish a presence on platforms like Source Bottle, where individuals seeking experts for specific topics can find you.
By creating a profile as a specialist, you offer a valuable resource for people searching for interviewees for their articles or podcast episodes.
Similar platforms exist, such as PitchRate.com, where you essentially establish a profile to be approached for interviews.
One of the more renowned sites for this purpose is HARO (Help a Reporter Out). Here, you can register as either a source or a journalist.
In our context, being a source is most applicable.
Once registered as a source, HARO distributes daily alerts featuring requests from individuals in search of experts on various topics.
Based on your area of expertise, you can respond directly to these requests, proposing yourself as a potential interviewee.
If your pitch resonates with the requestor and they are intrigued by your offer, they will directly contact you to conduct an interview, further positioning you as an expert in your field.
Profile on Open Sesame
If you're targeting corporate customers and aim to sell information products or provide training, Open Sesame is a viable platform for building a profile and hosting your course.
However, it's crucial to note that you'll be working with the platform's existing customers and traffic.
This platform does not offer a direct link back to your website.
Rather, your focus will be building a reputation on a site that specifically caters to individuals in large corporations.
Open Sesame operates on a gated process; you can't just upload courses at your convenience.
The platform will evaluate whether your offerings align with their audience's needs.
So, you'll need to go through their application process, assessing if your product area matches their audience's interest.
Open Sesame also requires you to create your content in specific formats suitable for their audience.
Therefore, before starting the application process, it's beneficial to review existing courses on Open Sesame to ascertain whether your content aligns with their audience's preferences and if they're likely to choose you.
You could also study the course providers to identify whom you might want to emulate in your application.
Once accepted, you'll have the opportunity to create multiple courses for the platform, earn from the platform, and potentially attract people back to your website presence.
Amazon Kindle
When you produce a book on Amazon Kindle, it is available for individuals to download. They will have access to it on their mobile device.
They will also have access to it on any special devices as well as their desktop computer.
And when you create a Kindle book, it is permissible for you to link back to your website as well as to place a QR code insight of the site so that individuals will easily be able to associate content in your book with your website.
If you go to kdp.amazon.com, it's here where you can produce your own manuscript and upload it to Amazon Kindle in order for other people to find it and read it.
It's here where you can create and upload your book in order to make it available on the Amazon marketplace.
That means then that every book that you choose to publish on Kindle is discoverable, and that means that you have one more opportunity to direct individuals back to your website.
Amazon Audible
Amazon owns a platform called Audible.com, and you can utilize the Amazon ecosystem more effectively by converting your Kindle book into an audio format.
Once your book is transformed into audio, it will be displayed on Audible.com.
Your website's reference within your audiobook would likely be audibly mentioned within the content itself, rather than included in your product description.
The production of audiobooks for the Audible website occurs through ACX.com.
If you've already published a book, it's relatively easy to make your title accessible on Audible through ACX.
Given ACX's affiliation with Amazon, you'd start by searching for a book already in your catalog that you want to convert to audio.
It's crucial to note that you must have a completed recording and have navigated the ACX process to produce your audiobook.
You'd search for books already in your catalog, then make those books accessible on Amazon ACX.
The primary requirement for this process is having your book professionally narrated or doing the voiceover yourself.
Changes to Amazon Author Page: If you're going to be leveraging your book, you want to be aware of some changes to the Amazon author page.
In the past, you may have used your Amazon author Central account and promoting your blog feed as well as photos and videos.
However, this has now been changed and you want to be aware of the guidelines in the profile area.
It states that as of the recording of this video, that the blog feeds will no longer be visible on the Amazon Author profile, and the same will be true of photos and videos as of December, 2022.
Photos and videos are not displayed on us author pages, so that is an important change for your Amazon author page.
Amazon Influencer Program
Leveraging the Amazon Influencer Program is another method to enhance your visibility on the Amazon website.
Simply head over to your preferred search engine, type in "Amazon Influencer," and follow the link to sign up for the Amazon Influencer Program.
This program empowers you to establish a storefront on Amazon encompassing all your products, including digital ones and other items you have up for sale.
Though direct promotional videos linking to your website aren't permitted, you can develop content around the products and services you offer on Amazon and enhance your discoverability through video.
Amazon's video platform is devised for live content and for engaging with the audience that visits Amazon to explore what you're discussing.
Amazon's primary aim is to encourage more traffic to their site and retain visitor engagement.
Your objective would be to get noticed on the platform and have Amazon direct traffic to you.
Influencing these visitors to visit your website will be your responsibility.
Amazon offers several features to facilitate this process, and as of this writing, they are actively endorsing it.
Before applying to be an influencer and going live, ensure you've perused Amazon's content guidelines thoroughly.
Bear in mind that external links in video reviews are prohibited unless they're a part of the product's packaging.
This is an important consideration for your traffic strategy.
The application process transpires on a mobile device rather than a desktop computer, meaning you'll need to use a mobile device to go live.
Additionally, once you're an Amazon influencer, you can upload non-live content to your account, so users can view your Amazon recommendations.
This is a somewhat indirect traffic strategy that requires a thoughtful process for harnessing the audience you build on Amazon.
Podcasting for Traffic
Another method of harnessing Amazon is through podcasting.
While Amazon isn't the only platform offering this—iTunes, Google, and Spotify do as well—it presents another opportunity to make use of the Amazon platform.
If you run a podcast and link it to a specific aggregator, that service ensures your podcast is visible and accessible within Audible.
It's noteworthy to mention that, as of this writing, YouTube is planning to allow you to direct your RSS feed to its platform for podcast distribution.
This is significant since YouTube maintains a dedicated podcast section.
You can launch your own podcast on any subject that interests you via Spotify for Podcasters.
However, it's prudent to keep your podcast relevant to your customers and your business.
Whether you're using a mobile device or desktop application, Spotify allows you to generate new podcast episodes.
Once you've established a routine for creating your podcast, you can disseminate it to other podcast aggregators using your RSS feed, which will be compatible with other platforms like YouTube in the future.
Your podcast serves not only as a conduit to guide listeners to your podcast, but it also provides a pathway to direct listeners back to your website.
Tutorials on Instructables.com
If your target audience or niche market is interested in electronics, robotics, or circuitry, you can engage them via the website Instructables.
This platform enables you to upload step-by-step guides for individuals eager to learn about creating electronic devices.
Numerous such tutorials are available on the site's main page.
Uploading tutorials to Instructables is free, and doing so provides you with a personal profile on the site.
This profile permits you to add links to your website, your online store, and your social media accounts.
As such, it's a practical method of directing individuals back to your website, based on your specific instructional content.
Before starting to upload tutorials to Instructables, it's prudent to familiarize yourself with their terms of service.
It's essential to understand the rights you possess regarding the content you upload, the material you provide, and what rights Instructables claims it has.
Instructables enhances your discoverability and boasts a wide reach within the DIY technology community, essentially forming a community of its own.
It's worth noting that there are projects on Instructables that are purely digital.
So, if you wish to create digital tutorials for individuals interested in viewing them, you can design and make them accessible on the site.
It's advisable to explore the site and perform a search based on your potential content and the purpose of your tutorial.
This will help you gauge whether Instructables could be a good fit for attracting the right audience back to your website.
Put Your Content on SlideShare
SlideShare is a platform where you can upload content that can be visible both in search engine results and on the site itself.
It primarily hosts presentation-based content which can be accessed by people interested in the information contained in your slides or presentation.
Uploading your document to SlideShare is free, and your user profile provides a section to insert your website link.
Therefore, when users view a presentation you've uploaded, they will also have access to your profile and consequently, your website link.
By clicking on the link, they can be directed to your website.
Furthermore, you can also drive traffic to your social media profiles by integrating them with your SlideShare uploads.
Add the Traffic to Your Email List
One crucial strategy when driving traffic to your website is capturing the names and email addresses of your visitors.
This enables future communication, thereby establishing a valuable relationship. Therefore, ensuring your website has some form of capture mechanism is imperative.
An email list is the most dependable source of traffic generation and it provides on-demand communication.
For example, inside MailerLite, our chosen email marketing platform, we've set up an integration with our website builder.
This ensures that when visitors provide their names and email addresses, they are added to our MailerLite email list.
However, this process may vary depending on the specific website builder and autoresponder service you employ.
Nevertheless, the key aspect is that visitors to your site are automatically included in your autoresponder service, paving the way for subsequent email communication.